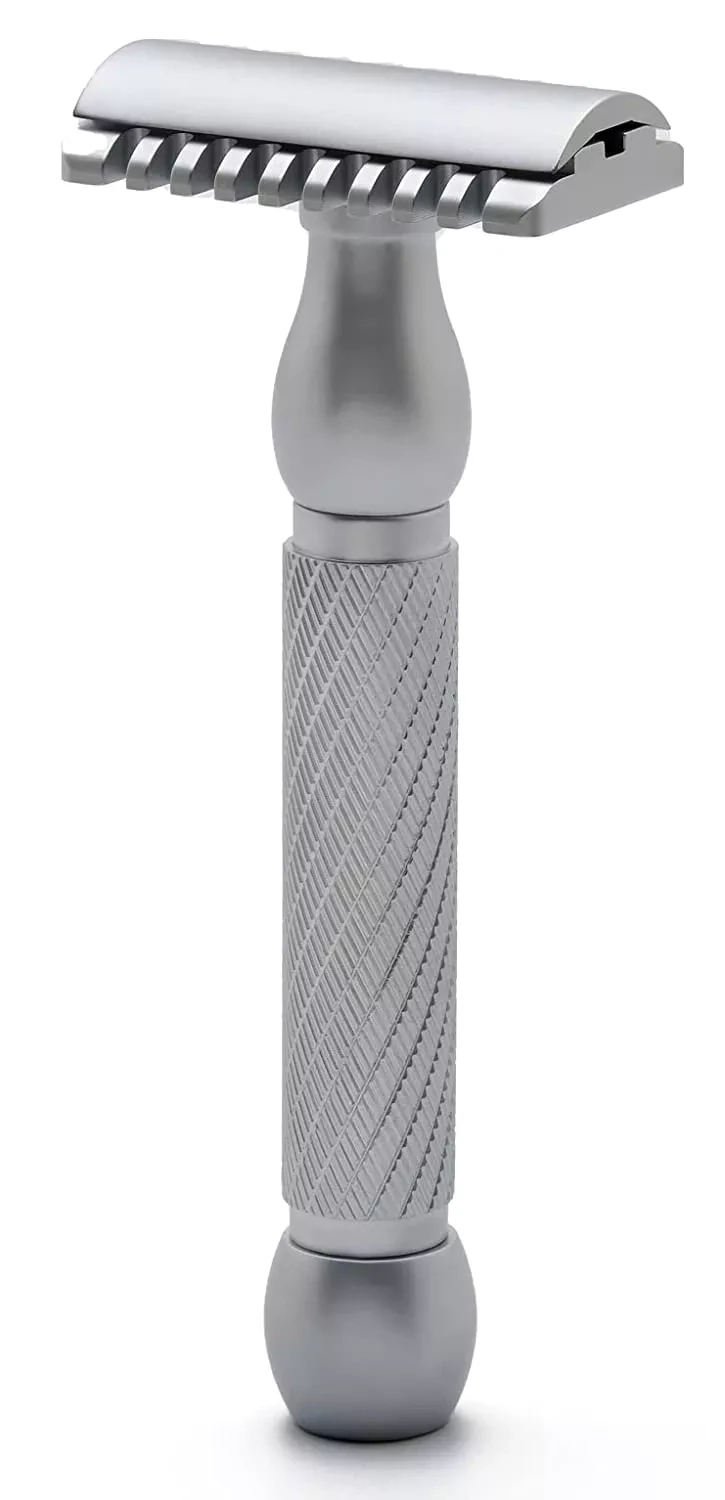 Pearl Shaving Hammer Open Comb and Straight Bar Double Edge Safety Razor, Classic and Traditional Shaving Kit
01133
Product Details
Introducing The Pearl Hammer Double Edge Safety Razor, a true masterpiece in the world of wet shaving. This exceptional grooming tool offers the perfect balance between performance and versatility, allowing you to achieve your desired shaving experience with ease.
The Pearl Hammer razor features a unique design that sets it apart from the rest. With both an open comb and straight bar bottom plate included, you have the freedom to choose your preferred shaving style. The open comb provides excellent hair capture and is ideal for those with thicker, coarser hair, while the straight bar offers a gentler shave for sensitive skin. The interchangeable plates ensure a customized shaving experience tailored to your individual needs.
Crafted from premium-quality brass, The Pearl Hammer showcases superior durability and strength. This high-quality material guarantees long-lasting performance, allowing you to enjoy the razor's precision and efficiency for years to come. The solid construction ensures stability and control during each shave, providing a comfortable and enjoyable grooming experience.
Elevate your shaving routine to new heights with The Pearl Hammer Double Edge Safety Razor. Whether you prefer a close, aggressive shave or a more gentle approach, this razor delivers exceptional results every time. Indulge in the art of traditional shaving and experience the craftsmanship that makes The Pearl Hammer a true gem in the world of wet shaving.
Unleash the power of The Pearl Hammer and discover the joy of a superior shaving experience. Embrace the elegance, precision, and versatility of this exceptional double edge safety razor and enjoy a grooming ritual like no other.
From Pearl Shaving:
Introducing the all-new Pearl Hammer is made from 100% Brass. Entirely made from the CNC process, it has Triple Plating. This triple-plated 3 Piece razor is so easy to maintain. For every purpose from cleaning to using, it is very easy & smooth to use. The Exceptional quality of this razor will give you that smooth and Irritation-free shave that will make you feel like "OH so perfect!!"
Best grip for regular users and beginners, with excellent balance.
Pearl shaving system specially designed for a close and comfortable shave
Features:
✅ Open & Close Comb Function - Made of 100% Brass(Including Head) , this razor allows you to easily change the plate for Open Comb or Close Comb Shave - Customize your shave by selecting your comb of choice. Close Comb for a mild shave and Open Comb for an aggressive shave. Choose the plate that's just right for you.

✅ Smooth and Clean - Specifically, this razor has been engineered and patented to significantly reduce razor burn and provide you a Smooth, Close, Clean shave. Suitable for all Genders

✅ Choose your own Blade - Compatible with all standard double edge Safety Razor blades. Ditch the cartridge for Double Edge Razor blades that are economical, more environmentally friendly, and result in less irritation and fewer ingrown hairs than expensive cartridges.

✅ Dimensions & Weight - Total Height : 113mm Razor | Weight : 151.22 Gram* Razor Handle Height : 102 MM Razor | Handle Weight : 99.99 Gram* Razor Head Weight : 51.22 Gram* (Close Comb34.09) | Razor Head Weight : 51.54 Gram* (Open Comb 34.41) | Blade Gap : 0.80 mm

✅ Content - 1 Pearl Hammer Razor with open and close Comb plates+ Well Crafted Gift Box + 1 Cleaning Cloth + 1 User Manual

✅ Gift Option - Perfect Gift for that special person on all occasions: Christmas, Valentine's Day, Father's Day, Wedding Anniversary, Birthday Gift, etc
Made in India
Save this product for later