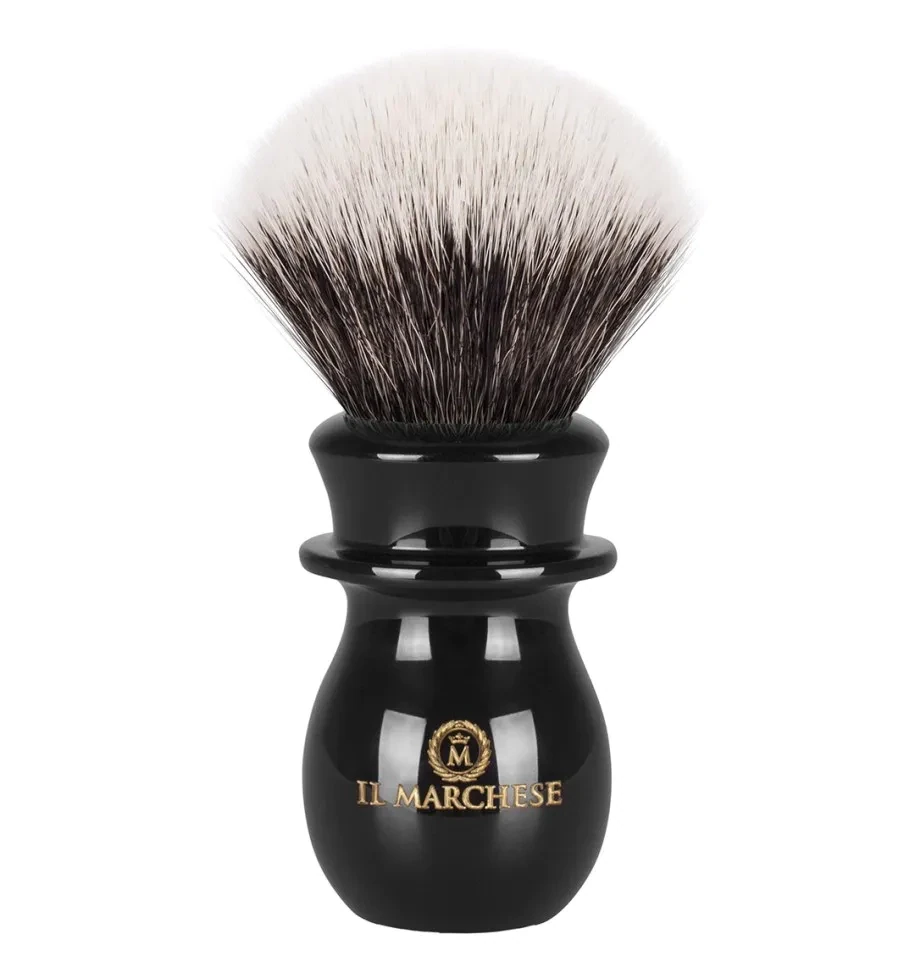 Il Marchese Cavour SHD Two Band Premium Shaving Brush
01203
Product Details
From Il Marchese:
Artisan shaving brush Cavour SHD 25 mm. Available in various colors. The real Made in Italy shaving brush!
Cavour SHD 25 Two-Band Shaving Brush
Artisan shaving brush, completely handmade in Italy with the ancient techniques of artistic turning. Glossy resin handle with high rigidity, resistant to abrasion and wear. Logo engraved on the top ring and coin minted on the bottom.
The Real Italian Artisan Shaving Brush
Elegant and original badger brush with two bands of Manchurian SHD 30 mm badger knot, one of the best-selling models. Il Marchese has been producing and distributing the best quality badger shaving brushes for many years for the most demanding customers all over the world.
Shaving brush with handle in pigmented epoxy resin in various colors (glossy black, ice white, glossy red, and cobalt blue) with logo engraved on the upper neck. At the bottom, there is a coin minted in gold-colored metal.
Top quality Tasso knot SHD (high density), two-band Manchurian. The two-band quality derives from the hair of the lower part of the animal which it has a very accentuated backbone and very soft tips. One of the best shaving brushes on the market.
Special Features

The softness of the knot: Among the main characteristics of this brush there is undoubtedly its softness at the tip and the right backbone;
The shape of the knot: The diameter of the knot and the right height that is given to the tuft, once fixed to the handle, means that the brush is able to hold a large quantity of water, and therefore the soap "mounts" more easily and in abundance.
Handle: Handle made entirely in Italy through artistic turning and without copying tricks.
How to best use your Badger Shaving Brush
Before first use: Activate the knot immersed in warm water for about 3 hours, to soften it and remove impurities due to processing;
Before each use: Immerse the knot in warm water for about 10 minutes, the time to prepare everything for your daily shave;
After use: Rinse the brush, taking care to remove all soap residues, dabbing it with a towel, and letting it dry.
*Don't forget, by purchasing the Il Marchese shaving brush you benefit from years of excellent customer care and service.
Type of Materials: Pigmented resin
Shaving Brush Size:

Handle height: 69mm
Handle diameter: 43mm
Knot diameter: 25mm
Node height: 53-53.5mm
Total height: 120mm
Made in Italy

Save this product for later