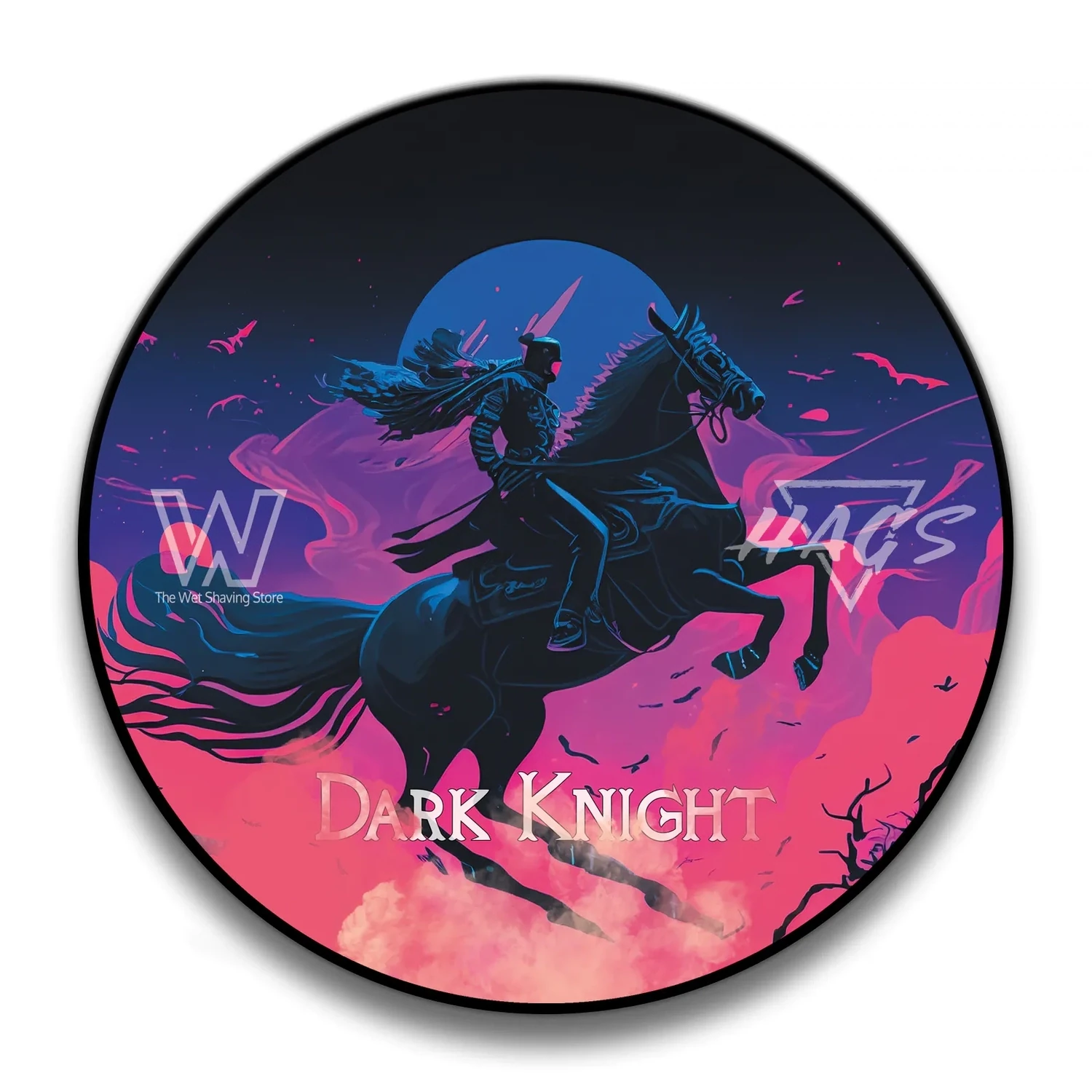 HAGS Dark Knight Artisan Shave Soap, HATHOR Base
01161
Product Details
Experience the epitome of sophistication with Dark Knight Shaving Soap and Aftershave Splash, a remarkable creation by HAGS, a revered soap artisan from Greece. Inspired by the captivating fragrance of Percival by Parfums de Marly, this exceptional set takes your shaving routine to new heights of luxury and elegance.
Crafted with meticulous care and expertise, Dark Knight features HAGS' new HATHOR base, a testament to their commitment to excellence. The soap effortlessly produces a rich, creamy lather that provides exceptional cushioning and glide, ensuring a smooth and comfortable shave. Paired with the invigorating aftershave splash, this set leaves your skin feeling refreshed and revitalized, enveloped in the captivating scent of Percival.
Dark Knight is the result of an exclusive collaboration between The Wet Shaving Store and HAGS, combining their shared passion for exceptional grooming products. This limited edition set showcases the finest craftsmanship and attention to detail, making it a must-have for discerning wet shavers seeking a truly elevated experience.
Indulge in the allure of Dark Knight and embark on a sensory journey that captures the essence of refined masculinity. Immerse yourself in the intoxicating fragrance, expertly blended by HAGS, and relish in the unparalleled performance of the HATHOR base. Elevate your shaving ritual with this exclusive collaboration and embrace the art of luxurious grooming.
Net Weight 4 Ounces (114 grams)
From HAGS:

Dark Knight is a fresh, sensual, and refined scent that will be remembered. We have been inspired to create this scent as an homage to Percival by Parfums de Marly.
Scent Notes:
Top notes of Lavender, Mandarin Orange, Bergamot, and Geranium
Middle notes of Hedione, Violet, Coriander, Jasmine, and Cinnamon
Base notes of Ambroxan, Amberwood, Balsam Fir, Musk and Clearwood
HATHOR Base
The HATHOR Base provides a close shave with a lot of cushioning, smoothness, and lingering slickness.
After shaving, your skin feels soft, moisturized, and smooth without feeling oily or tacky.
We were inspired to name this base after the Egyptian goddess Hathor, who was often depicted as a cow in ancient Egyptian religion, symbolizing her maternal and celestial aspects.
The Process
We use the hot process method to make our shaving soaps. This allows us to apply premium ingredients like Donkey Milk, Murumuru Seed Butter, Jojoba Oil, and Evening Primrose Oil unsaponified for improved nourishing and moisturizing effects.
Donkey Milk
Donkey Milk is rich in vitamins and minerals: potassium, phosphorus, iron, zinc, sodium, calcium, magnesium, iodine, retinol, and vitamins A, B1, B2, B6, D, C, E.
Very moisturizing for the skin, it nourishes the skin in depth. It will soothe even the driest, most sensitive & reactive skin. An outstanding healer.
Donkey milk contains essential fatty acids and amino acids that are essential for cell construction.
Murumuru Seed Butter
Deep Hydration – The high amounts of fatty acids in the Murumuru Butter penetrate the skin and facilitate deeper hydration.
Soothing – It is rich in omega-3 and omega-9 fatty acids, along with vitamins A, C, and E.
Jojoba Seed Oil
Soothes Skin – Jojoba Oil keeps skin calm and comfortable. The Vitamin E and B-complex vitamins in the Jojoba Oil helps in skin repair and damage control.
Non-Allergenic Properties – Jojoba oil is non-allergenic, which means that it will not cause any reactions in people who have sensitive skin.
Evening Primrose Oil
Produces a wonderfully conditioned soap.
High in linoleic and gamma-linolenic acids (also known as vitamin F).
Is valued in soap making for its benefit to dry, mature, sun-damaged skin.
May give relief to some skin conditions such as eczema and psoriasis.
Has anti-inflammatory properties.
Is easily absorbed by the skin.
Has moisturizing and softening effects
Ingredients: Potassium Stearate, Agua, Potassium Ricinus Communis (Castor) Seed Oil, Donkey Milk, Glycerin, Potassium Shea Butterate, Potassium Tallowate, Potassium Cacao Butterate, Oenothera Biennis Oil (Evening Primrose Oil), Potassium Babassuate, Sodium Lactate, Simmondsia Chinensis (Jojoba) Seed Oil, Kaolin, Astrocaryum (Murumuru) Seed Butter, Parfum, Sodium Chloride
The fragrance of the product contains the following ingredients: (Limonene, Linalool, Citronellol, Citral, and Farnesol)
HATHOR Base is Sodium Hydroxide (NaOH) FREE.
Directions The soap is soft (CROP). WE DO NOT RECOMMEND BLOOMING THE SOAP BECAUSE OF ITS SOFTNESS.
"Wet the bristles of your brush and start loading for 10′ by tapping and swirling your brush gently on the surface of the soap until the bristles are covered. Start lathering in a bowl or directly on your face."
The soap lathers easily, adding water increases the density of the lather and creates a luxurious, creamy, buttery texture.
The soap lather can hold up a lot of water, so do not be afraid to add more.
The Scent meter label on the bottom of the jar indicates the strength of the fragrance once lathered and not straight from the jar.
External Use Only
Made in Greece
Save this product for later