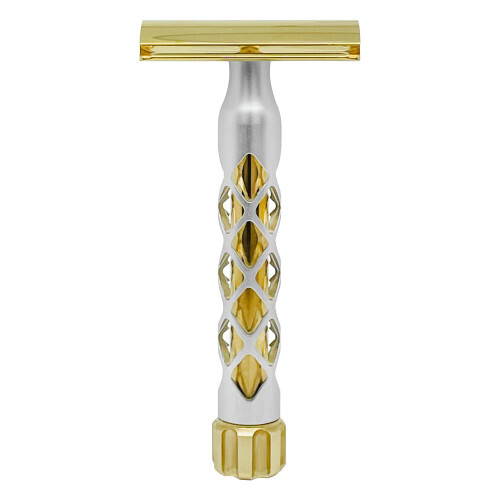 Goodfellas Smile Valynor Double Edge Safety Razor Made in Italy
01274
Product Details
Brand:
The Goodfellas Smile
Ladies and gentlemen, I'm thrilled to introduce the Valynor Safety Razor, a true masterpiece hailing from Italy's finest – The Goodfellas' Smile. This isn't just a razor; it's a work of art, and it's here to revolutionize your grooming experience.
Italian Craftsmanship at Its Best
The Valynor Safety Razor is a testament to Italian design and innovation. It's the brainchild of their relentless pursuit of excellence. Entirely conceived and developed in Italy, this extraordinary razor is not just functional; it's a fantasy-inspired work of art. Imagine a razor that merges elegance with intricate detailing, and you've got the Valynor.
The Beauty of Details
The Valynor razor is a true visual delight. It's not just a grooming tool; it's a piece of craftsmanship that captivates with details of light, shadows, and striking contrasts. The handle, made from silver anodized aluminum, complements the machine-polished, uncoated brass head and base perfectly.
Unleash the Magic of Shaving
But the real magic happens when you shave. The Valynor razor is composed of four detachable parts: base, handle, plate, and cap. This modular design offers a gentle yet effective shaving experience, all thanks to its precise neutral gap of 0.8mm. It's a razor that knows no gender boundaries, making it perfect for both men and women looking to achieve a silky-smooth finish on any part of their body.
Designed for Precision
The Valynor's flat head design is perfect for the mustache area, ensuring you get every detail just right. The rounded corners of the plate caress your skin with perfection, and the wide grooves ensure optimal hair expulsion.
Technical Excellence For those of you who appreciate the numbers:
Razor Type: A versatile four-piece closed comb safety razor
Weight: A mere 2.75 oz (78g)
Length: A compact 3.62 inches (92mm)
Materials: It marries the aesthetic charm and durability of brass with the lightweight elegance of silver anodized aluminum.
A Word on Brass
Now, let me address something important. Brass is a long-lasting material, celebrated for its resistance to corrosion and oxidation. However, like any beautiful thing, it requires care. Over time, brass parts may develop a patina. To maintain the brilliance of your Valynor razor, handle it with care and use specialized brass cleaning products occasionally.
In summary, the Valynor Safety Razor is not just a grooming tool; it's a masterpiece designed to elevate your grooming ritual. It's more than a razor; it's a statement of style, elegance, and precision. Are you ready to experience the future of shaving?
Experience the Valynor today, and witness the evolution of your grooming experience. Get yours now!
Save this product for later