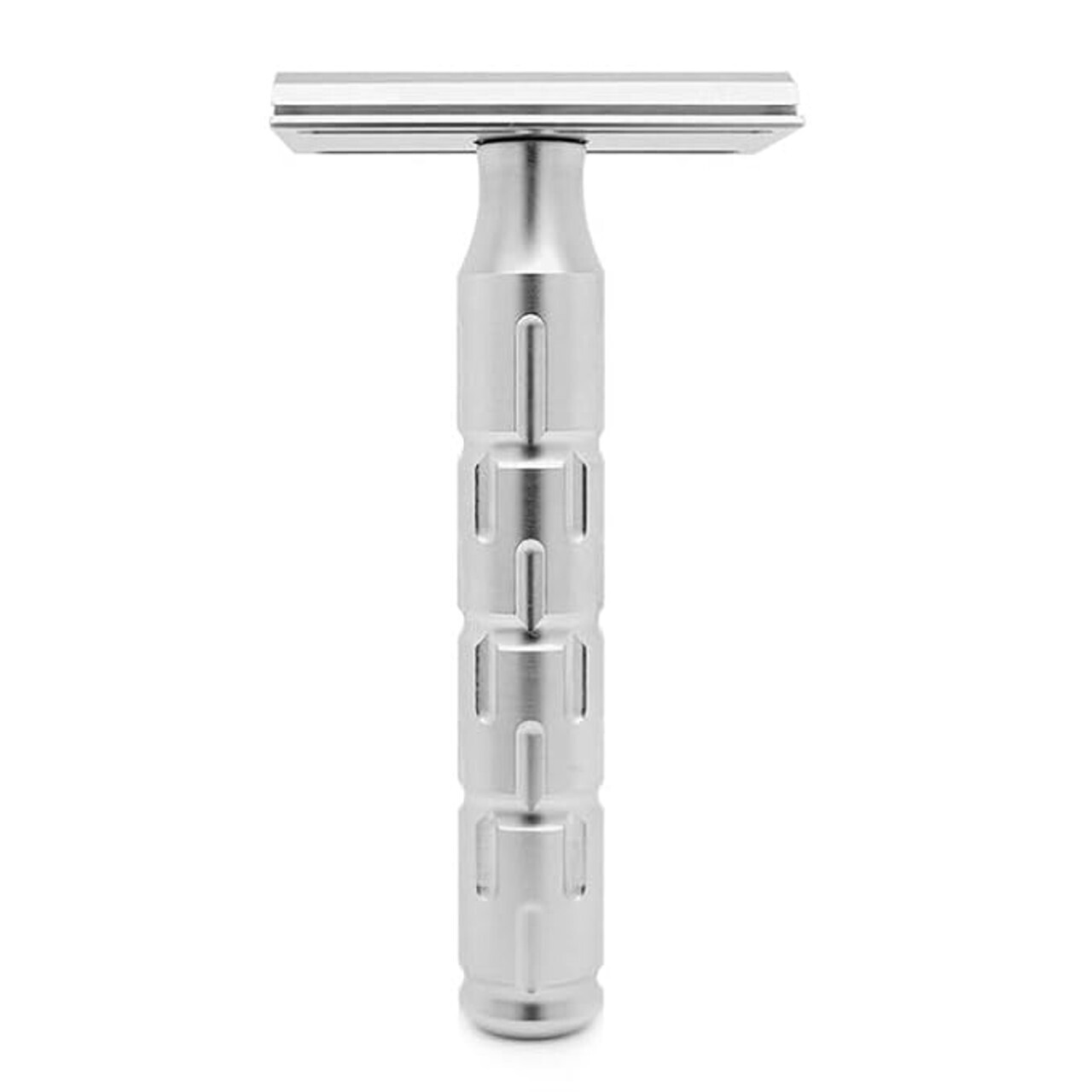 Goodfellas Smile Syntesi Stainless Steel Double Edge Safety Razor Made in Italy
01273
Product Details
Brand:
The Goodfellas Smile
Ladies and gentlemen, let me introduce you to the Syntesi Safety Razor, a masterpiece of Italian craftsmanship designed for the discerning gentleman who demands versatility and precision in their grooming routine.
Unparalleled Versatility
The Syntesi Safety Razor is more than just a shaving tool; it's your trusted partner in achieving the perfect shave. Crafted in Italy, it boasts a 45-degree shaving angle that effortlessly guides your hand for a flawless shaving experience, every single time. Whether you're a seasoned pro or new to the world of safety razors, this product is perfect for you.
Exceptional Materials, Impeccable Finish
Made entirely from 303 stainless steel and coated with scratch-resistant hard chrome, the Syntesi Safety Razor combines durability with elegance. Its finish strikes a balance between polished and matte, providing a brilliant yet reflection-free surface. Think of it as the White Sands Desert glistening under the midday sun but in the palm of your hand.
Effortless Shaving, Anywhere
This razor is not just for your face – it's designed to tackle all your grooming needs. Its special shaving angle ensures a safe and effective shave, even in sensitive areas like the head, armpits, or groin. Plus, with large drainage holes, it's a breeze to rinse away those stubborn hairs. A quick jet of water, and you're good to go.
Technical Excellence Here are the details you've been waiting for:

Material: Premium Stainless Steel 303
Coating: Scratch-resistant hard chrome
Handle Length: A comfortable 80mm
Overall Length: A compact 87mm
Head Width: 43mm
Head Depth: 24mm
Blade Gap: A precise 0.62mm
Exposure: A mere 0.02mm
Weight: A sturdy 98g
A Collaboration of Excellence
The Syntesi Safety Razor is the result of an exclusive collaboration between the esteemed Italian companies The Goodfellas' Smile and Minuterie Metalliche Rocchetti. It's a true testament to Italian ingenuity and quality.
Made in Italy, Loved Worldwide
This razor is not just a grooming tool; it's a piece of Italian excellence. It's a three-piece closed comb safety razor, designed for the modern man who values quality and performance.
In Summary
The Syntesi Safety Razor is not just a shaving instrument; it's an Italian masterpiece, ready to elevate your grooming routine. Discover the perfect shave with a touch of Italian flair.
Are you ready to experience the pinnacle of shaving perfection? Don't miss out on the Syntesi Safety Razor – it's more than a razor; it's your gateway to precision, versatility, and confidence. Grab yours today!

Save this product for later