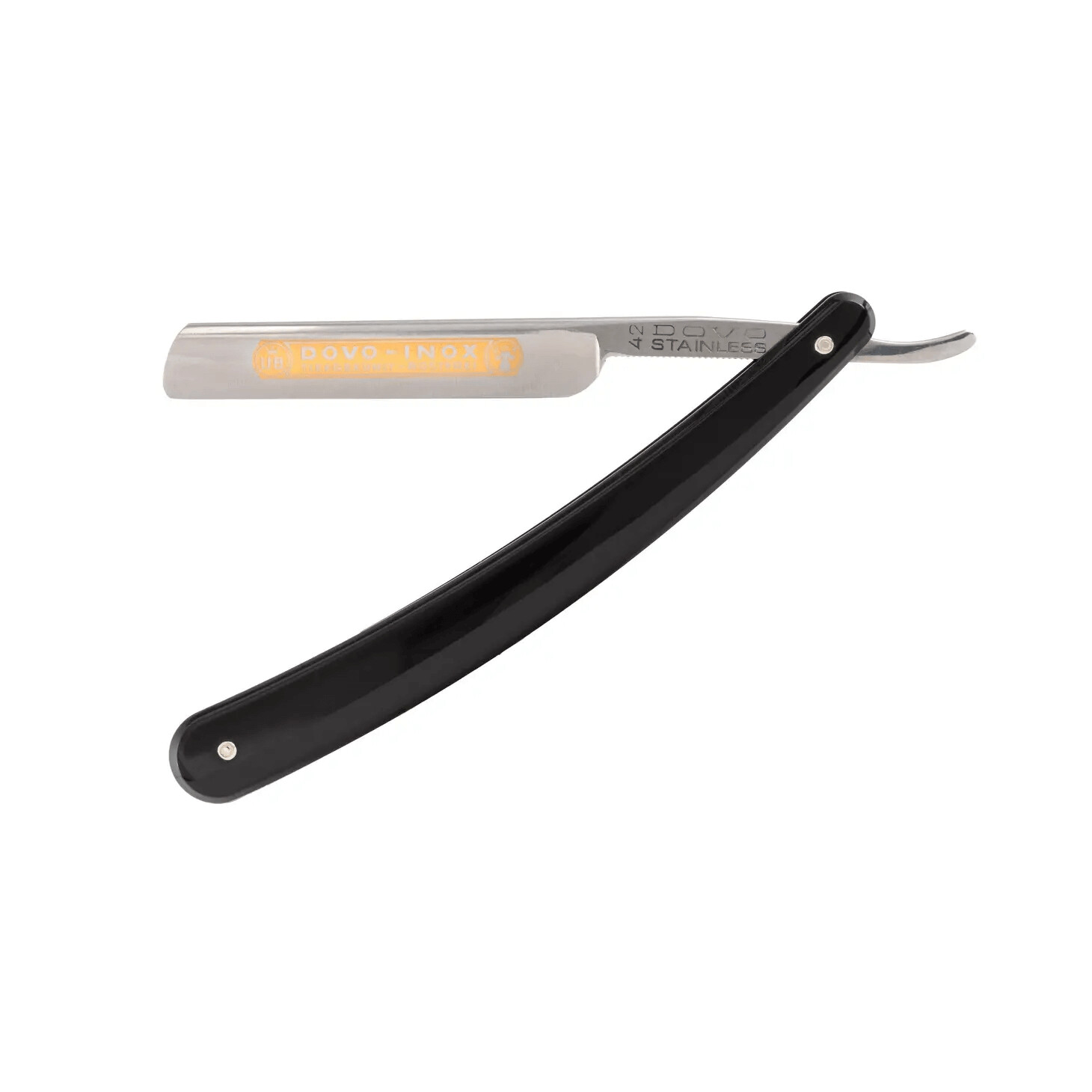 Dovo Inox Straight Razor
DV-15381387
Product Details
This razor is "factory shave ready".
From Dovo:

The DOVO straight razor 42 is the last hairdressing knife in our range. Before the invention of interchangeable blade knives, coarsely ground knives were very common for shaving. Due to the small width of 3/8" and the French head, it is a good choice for experienced users to shave contours with millimeter accuracy.
Box Content: Razor in Plastic Box
Material: Carbon Steel 1.4034, decorated with 24-carat gold
Handle Material: Plastic PMMA
Blade Description: French Head, Simple Approach, Tang Led
Cut: Rough
Blade Width: 3/8"
Dimensions: 15.6 cm x 2.2 cm x 1 cm
Important advice to the User: The blade of your open straight razor has a very fine and vulnerable cutting edge. Touching it or cutting materials other than beard hair, or using it for other than its intended purpose will damage or destroy it. Therefore direct contact with the skin should only occur during the shaving session. Gentle stropping of the blade before shaving maintains the blade's cutting ability for several months, while too much pressure onto the strop will cause damage to the fine cutting edge.
Maintenance: Blades of open straight razors are made of stainless or carbon steel and therefore require particular diligence and maintenance. The blade and handle have to be cleaned and dried carefully after use. For long-term storage, the blade should be lightly oiled, and the open straight razor is kept in a dry environment.
Honing Service Information
IMPORTANT INFORMATION IF YOU PURCHASE THE HONING SERVICE
Free Strop w/ Honing Service Purchase (Courtesy of Strike Gold Shave)

The honing service is provided by Frank @ Strike Gold Shave! The Wet Shaving Store has partnered up with Strike Gold Shave to simplify the process of getting your new straight razor Shave Ready! When you include the Honing Service with your new razor, The Wet Shaving Store will ship your new razor directly to Strike Gold Shave and Frank will open and prepare the edge on the new blade so that it's perfect for your first shave!
Details About the Honing Service
Turnaround time is 7-10 days after it arrives at Strike Gold Shave (New York)

It takes 3-5 days in transit to get from The Wet Shaving Store to Strike Gold Shave.
After it arrives at Strike Gold Shave, the honing service will take 7-10 days before it is completed and shipped directly to you.
Total estimated time before you receive your new razor: 15-20 days if you are in the US.

For international orders, the transit times will vary and we are unable to estimate how long it will take.

All shipping charges are included in the price when you select the honing service with a new razor.
Your second honing is FREE when you purchase a razor with The Wet Shaving Store. You just need to contact and ship your razor to Strike Gold Shave.
All shipping and transit times are estimates and we are not responsible for delays caused by measures that are out of our control.

For details and more information about the honing service, please contact Strike Gold Shave:

Email: frank@strikegoldshave.com
Phone: 516-698-7948
Made in Germany
Save this product for later